Belize Botanic Gardens
The Gardens Encompass 45 Acres of Native & Exotic plants brought to you by the Duplooy Family
While you are here, don't miss the opportunity to visit Belize Botanic Gardens (BBG), which consists of 45 acres of native and exotic plants. A visit the the BBG is complimentary for each Sweet Songs Jungle Lodge guest. There isn't a lovelier place to stroll in the early evening or early morning hours. Winding paths through this conservation project will introduce you to some of Belize's varied habitats and to the plants that are native to these areas.
Within Belize Botanic Gardens, you'll find the Maya Medicine Trail, Native Orchid house, the Bird Hide looking out over the pond, lots of tropical fruits and flowers, a Rainforest Walk, palm displays and lots more tropical splendor.
At the garden, plants are what we're all about. We hope to inspire you to appreciate plants and to protect the floral bio-diversity of Belize. Belize Botanic Gardens exist as an information resource for the community, government, industry and science and as an education center. It is also a place of beauty for visitors to enjoy.
Modestly speaking, the garden offers beautiful plants in a beautiful setting, but it's so much more. Belize Botanic Gardens are encouraging sustainable horticulture, maintaining conservation collections and engaging in conservation education. The goal is to inspire the community and visitors (this could be you!) to protect our leafy friends and their habitats by learning more about the wonderful world of plants.
Learn about medicinal and other plants that can be found in the garden from the self-guide booklet included with your room and/or reserve a 1 or 2 hour private tour of the garden or join us for a Traditional Healers Experience.
Visiting hours are from 7am to 5pm (Sweet Songs guests are free to wander in the garden at any time)
Guided tours are available daily until 2:30pm
Garden Attractions
Maya Hut & Medicine Trail
Visit the Medicine Trail and learn how plants were used by the ancient Maya for ritual, medicine and daily living. The Maya knew how to make all they needed from the forests around them, some of which are on display inside the Maya House.
The Native Orchid House is home to over 100 species of Belizean orchids, as well as many other native plants. You will not see a dramatic display here as these are not collected in great numbers due to threats to them in the wild.
Spy on birds and other wildlife from this overlook. Several species of frogs and fish live in the pond and turtles can sometimes be seen lounging on a log. Look for logwood trees, originally harvested for use in dyes. Or just sit and absorb your surroundings.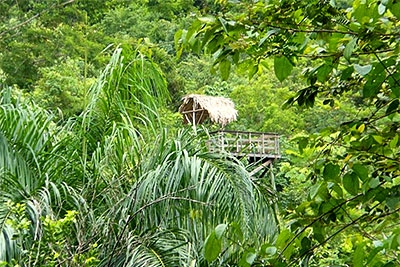 Check out the vista from the Lookout Tower. From above take in the sights and sounds of the garden and surrounding hills (Day or Night). This 35ft. high tower is an exact replica of the ones used for fire management in the Mountain Pine Ridge.
A beautiful place to relax during a walk through the gardens, or the perfect event venue.
A winding path takes you past a display of Belize's heliconia and ginger as well as over 50 different varieties of plants and trees from the world's tropics, See if the amorphophallus paenifolius is in bloom when you visit the gardens.
Traditional Healers Experience (Fridays 9am)
With today's interest in natural healing, you are going to want to join us on a Friday morning in the garden for a guided-walk on the Medicine Trail. Along the trail your guide will be pointing out some of the more than 30 medicinal plants that can be found and you'll have the opportunity to learn first-hand about some of the more commonly used plants, their healing properties, along with best methods on how to prepare them.
Before you begin your guided-walk, learn how to make tamales on a wood-fired Fogon and then while they're cooking, begin your tour. Following the walk learn how to make a small craft item from palm leaves. And after enjoying the taste of home-cooked tamales for lunch, there's time to re-visit the garden, have a cool swim or go tubing in the Macal River or just relax on the Bird Deck with a cool drink.
This day of fun and learning includes: transportation, guided medicine walk, use of inner-tubes, tamale making (and eating), along with other Belizean goodies cooked on the fogon, as well as local fruit juices and a typical Belizean dessert. If you are not staying at Sweet Songs, we can pick you up at the San Ignacio Welcome Center at 8:30am; with a Return at 3pm.
A tour of Belize Botanic Gardens: